MY BIO PAGE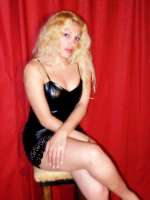 Name: Melanie (Mel)
Age: 28
Personal: Gender Queer T-Girl
Height: 5′-10″
Weight: 155
Location: Las Vegas, NV
Occupation: Cocktail Waitress
Hobbies: Tennis, gambling, swimming, 420 friendly, travel
Likes: Travel to exotic places, usually with a beach
Dislikes: Boredom or laziness
I'm a T-Girl or what I usually refer to as a genderqueer, girl-like creature. When I fill out forms (like at DMV) there seems to be no gender designation to describe me. I'm comfortable with my male parts but I prefer to live as a female, thus I call myself a T-Girl or gender queer.
I enjoy being treated like a woman, having doors held open and generally being regarded as a feminine person by both men and women. It's an interesting life.
I'm a homebody but yet outgoing and adventurous. I haven't quite come to terms with this but I enjoy being at home, especially spending time with a lover (are you out there?!!). I also enjoy going to new places, swimming, reef diving, hiking, mountain climbing and dining in exotic restaurants. I also enjoy the company of a wide variety of people of different genders, ethnicities, beliefs, etc. I find people to be complex and fascinating.
I'm fiercely loyal to my friends and family. I wouldn't hesitate to come to their defense. Friends and family are what make life worth living and I don't take that lightly.
I work as a cocktail waitress at a Las Vegas casino. Yes, my boss knows I'm a T-Girl and it has never been a problem. I think he wants to date me but I guess we better not go there. I love my job. It pays the bills and leaves a little extra. I like the attention I get from my wonderful customers. It's all a great time!
I  play guitar and though I'm probably only an average singer, I enjoy singing with friends at karaoke or at a party. Sometimes I like sad music and other times I like to rock out with a lively, fun tune. I'm 420 friendly but not an addict. I drink socially. No hard drugs for me.
My vice is probably gambling. I'm single and I have a gambling budget that I stick to. I play video poker, blackjack and live poker. I also play online poker now and then. I manage to win a little at blackjack and poker but the video poker is usually just for fun. 
Life is good. I hope yours is also.
---
PRIVACY POLICY: We take your privacy seriously. Meet-TGirls.com does not place cookies on your computer or collect any personally identifiable information. This is a free site. We are an authorized affiliate of some sites that may appear on this site, however, you are never under obligation to make any purchase to access all the content on this site. Please contact us if you have any questions regarding this privacy policy.
---