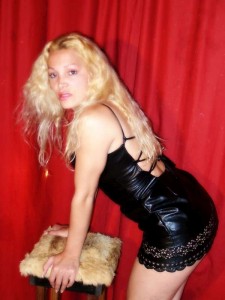 So you want to meet TGirls? That's great, but how do you treat her once you've met her? It will help a great deal if you have some basic understanding of the different types of tgirls. That's beyond the scope of this web site so I highly recommend Amber Lynn's TGirl Dating Guide for admirers. It's completely free so check it out, preferably before you start meeting tgirls. That way you'll avoid a lot of the clumsy mistakes I've seen men make. We love male attention, but so many guys turn us off from the start by saying or doing the wrong things. It's too bad, because some of them are probably nice men who simply didn't know what to say or how to act in the presence of a lovely tgirl.
Every tgirl, like genetic women, is unique and has her own ideas of what she finds attractive in a man. Generally, however, there are some things that virtually every woman (and tgirl) finds attractive in a man. Most of these are critical if you're approaching her with any romantic intent. So, let's discuss a few things that will help you seal the deal when you meet tgirls for romance.
Personal hygiene should go without saying. You like a tgirl who takes care of herself, right? Well, it works both ways. You don't want to smell body odor. Take a shower before going out. Comb your hair. Shave and trim that facial hair. Brush your teeth, and use mouthwash. Make sure your fingernails are neatly trimmed and clean. Anti-perspirant will be helpful. If you use cologne, don't bathe in it. A little goes a long way. You might want to avoid alcoholic beverages, coffee and foods that tend to leave a foul odor on the breath.
Confidence is always a turn on for tgirls or women. Giving off a vibe of self-confidence (without being arrogant) is always a turn on. People are drawn to men who have confidence. Don't brag or go on and on about how wonderful you are. Just be yourself and act with confidence. You certainly don't want to come across as shy, nervous or worried. This is where Amber Lynn's TGirl Dating Guide will come in handy. A little knowledge will help you with your confidence. Every little advantage helps!

Be well behaved.  Listen attentively to her. Avoid being loud and brash. She is a delicate, feminine creature so don't scare her away by trying to show off.  Be open with your communication and body language. Be sure to treat others with respect when you're out on your tgirl date. She'll know that how you treat others is an indicator of how you'll treat her. So, mind your manners even if someone annoys you during your tgirl meeting.
A good sense of humor goes a long way. It is often listed as a top factor in attractiveness. Don't be derogatory though. Making fun of people isn't a good idea. A good sense of humor might be mildly self-deprecating or clean and non-offensive to others. Lewd jokes should be strictly off limits until you and your tgirl get to know each other much better.
Be a gentleman. You should open doors for her and perhaps pick up the tab for dinner. You can let her order dinner first or order for her after she lets you know what she wants. Remember to say please and thank you. Be respectful when talking with your tgirl date.
I hope you meet tgirls that make your world a better place. Remember to make her world better too. Treat her like a lady and she'll make you a happy man.
---
PRIVACY POLICY: We take your privacy seriously. Meet-TGirls.com does not collect any personally identifiable information. This is a free site. We are an authorized affiliate of some sites that may appear on this site, however, you are never under obligation to make any purchase to access all the content on this site. Please contact us if you have any questions regarding this privacy policy.